This blog about Free Download full Openings / Opening [op] and Endings / Ending [Ed] anime
Kidou Senshi Gundam 00 // 機動戦士ガンダム00 // Mobile Suit Gundam 00
you don't have to register or pay to download. It's easy and free. But if you find several link doesn't work or the file was deleted, tell me please. Contact me if you are going to request the other version from opening or ending this anime. Example: karaoke version, instrumental version, TV size version, Character single, main theme, or Soundtrack music of this anime. I take seriously with all your comment and request.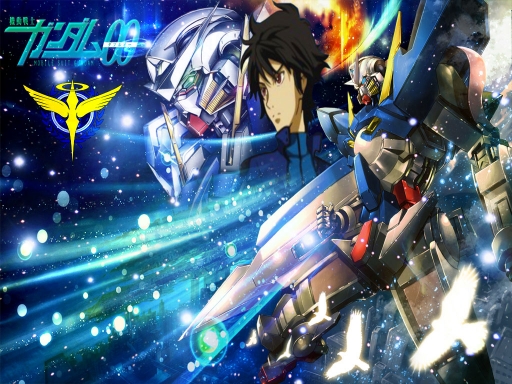 Gundam 00
I admit it's a little hard to keep up with sometimes once you feel it start to drone on. Thankfully, it's not that long, and just long enough to get the point across. What interested me the most was a point that was shown through the relationship between Setsuna and Marina. Celestial Being is trying to eradicate war, as they say, but they are fighting to do that. That itself is a huge contradiction, one that isn't ignored by the characters themselves. Setsuna in particular I remember musing over it. Marina on the other hand seeks peace, creating a good-hearted light of hope in all of the violence. The whole thing is very realistic and that was a drawing point. This isn't an alternate universe, this is a version of an imagined future.
If you can sit through some politics, enjoy having your morals questioned and are willing to keep an open mind, it's a fantastic series and I recommend it. As many have said- it's an excellent gundam series to start off with.
Opening Theme: Season 1
#1: "Daybreak's Bell" by L'Arc-en-Ciel [
Download
] [
Single
]
#2: "Ash Like Snow" by The Brilliant Green [
Download
] [
Single
]
Opening Theme: Season 2
#1: "Hakanaku mo Towa no Kanashi" by UVERworld [
Download
] [
Single
]
#2: "Namida no Mukou" by Stereopony [
Download
] [
Single
]
Opening Theme: Movie -A wakening of the Trailblazer-
"Tozasareta Sekai" by The Back Horn [
Download
] [
Single
]
Ending Theme: Season 1st
#1: "Wana" by The Back Horn [
Dowload
] [
Single
]
#2: "Friends" by Stephanie [
Download
] [
Single
]
Ending Theme: Season 2nd
#1: "Prototype" by Ishikawa Chiaki [
Download
] [
Single
]
#2: "trust you" by Yuna Ito [
Download
] [
Single
]
Ending Theme: Movie -A wakening of the Trailblazer-
"Qualia" by UVERworld [
Download
] [
Single
]
Insert Song: Season 1
"Love Today" by Taja [
Download
] [
Single
]
Insert Song: Season 2
"Tomorrow" by Ayumi Tsunematsu [
Download
] [
Single
]
"Unlimited Sky" by Tommy Heavenly6 [
Download
]
Image Song: Movie
"CHANGE" by UVERworld [
Download
] [
Single
]
"Mou Nanimo Kowakunai, Kowaku wa Nai" by Chiaki Ishikawa [
Download
] [
Single
]