This blog about Free Download full Openings / Opening [op] and Endings / Ending [Ed] anime
So long, Mr. Despair
/
さよなら絶望先生
you don't have to register or pay to download. It's easy and free. But if you find several link don`t work or the file was deleted, tell me please. Contact me if you are going to request the other version from opening or ending this anime. Example: karaoke version, instrumental version, TV size version, Character single, main theme, or Soundtrack music of this anime. I take seriously with all your comment and request.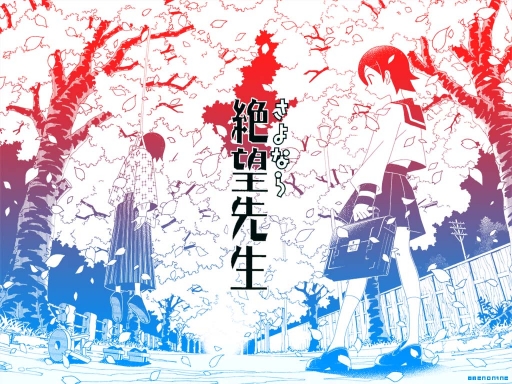 Sayonara, Zetsubou Sensei
This is a slice-of-life series and it is based entirely around hilarious character shenanigans, though if you ever see characters like this in your life, I'd be a little worried. Still, there are a few reoccurring themes revolving around anime and otaku snark and satire of Japanese lifestyle, culture, politics, media, literature, etc. They also frequently make fun of themselves, which is incredibly amusing. It's all amazingly well done and highly entertaining, I assure you. A bit of warning through, if you try and pause to read every single thing written in the background for scenes,
you will turn 20 minute episodes into 40 minute episodes.
[Last Updated: 18 Sept 2013]
First Season:
Sayonara, Zetsubou-Sensei
Opening Theme:
#1: "Hito toshite Jiku ga Bureteiru " by Kenji Ohtsuki feat. Ai Nonaka, Marina Inoue, Yu Kobayashi, Miyuki Sawashiro & Ryoko Shintani [
Download
]
#2: "Goin ni Mai Yeah~ " by Ai Nonaka, Marina Inoue, Yu Kobayashi & Ryoko Shintani [
Download
]
Ending Theme:
"Zessei Bijin" by Ai Nonaka, Marina Inoue, Yu Kobayashi & Ryoko Shintani [
Download
]
---------------------------------------------------
Second Season: Zoku Sayonara Zetsubou Sensei
Opening Theme:
#1: "Kuusou Rumba" by Kenji Ohtsuki and Zetsubou Shoujo-tachi [
Download
]
#2: "Lyricure Go Go!" by Ai Nonaka, Marina Inoue and Ryouko Shintani [
Download
]
Ending Theme:
#1: "Koiji Romanesque" by Zetsubou Shoujo-tachi [
Download
]
#2: "Marionette" by ROLLY and Zetsubou Shoujo-tachi [
Download
]
#3: "Omamori" by Ai Nonaka, Marina Inoue, Yu Kobayashi and Ryoko Shintani [
Download
]
----------------------------------------------------
Third Season: Zan Sayonara Zetsubou Sensei
Opening Theme:
"Ringo Mogire Beam!" by Kenji Ootsuki and Zetsubou Shoujotachi [
Download
]
Ending Theme: