This blog about Free Download full Openings / Opening [op] and Endings / Ending [Ed] anime
タユタマ -Kiss on my Deity-
you don't have to register or pay to download. It's easy and free. But if you find several link don`t work or the file was deleted, tell me please. Contact me if you are going to request the other version from opening or ending this anime. Example: karaoke version, instrumental version, TV size version, Character single, main theme, or Soundtrack music of this anime. I take seriously with all your comment and request.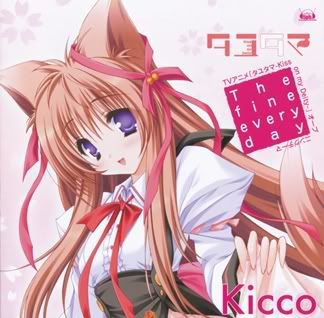 Cover OPening Theme
The biggest part of why I liked Tayutama so much was the skillful use of silence and suspense in two-person exchanges. These scenes were orchestrated beautifully. If it weren't for these, though, I may have given Tayutama a 7 or 8, because really, there are some things that could have been improved. Tayutama is a refreshing anime, if you can call it that. Not overly ecchi, not overly headache-inducing, and it gives you a nice uplifting feeling that might or might not have you considering Shinto just so that you can maybe get a foxgirl out of it. If anything, watch it for Mashiro's moé factor and Nue's comic relief I guess. It's a nice ride regardless
Opening Theme
"The fine every day" by Kicco [
Original ver.
] [
Off vocal ver.
]
Ending Theme
"Kizuna no Uta" by Miyazaki Ui [
Download
]
Tayutama -Kiss on my Deity- Original Soundtrack [
Download
]